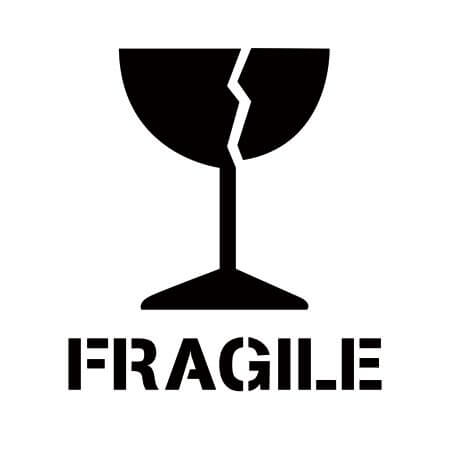 How should I pack small or fragile items when moving house?
The most important thing to remember about small items is that they are infinitely more vulnerable to breakage than large items, so you must pack defensively. Here at A Man with a Van London, we know a thing or two about sensible packing. Here we look at some of the most common small items you may have to pack, and ways in which you can protect them from damage.
Small Fittings
Small fittings such as nuts, bolts and screws are not so much at risk of damage, as loss. If you have pieces of flat packed furniture you want to disassemble and reassemble at your new home, then it is essential that you keep every single nut and bolt, because you will not be able to replace them. The best way to ensure these fittings never become lost is to put them into a strong plastic bag and tape them to the piece of furniture they belong to. If you are worried they will be dislodged, then label the bag clearly and place into a container with other small fittings, such as picture hooks, screws and shelf brackets. Place the appropriate Allen key in the box too, and you can get to work as soon as you arrive at the new house.
Delicate China and Glass
Fragile china is a headache to move, so good packing is essential. Find a box that will only allow a few items to be packed together. Packing too many items in one box will increase the danger of breakages. Wrap each item carefully in several layers of cotton wool, tissue paper and bubble wrap, taking care to strengthen the outside of the package with tape. Put a layer of bubble wrap or polystyrene packing peanuts in the base of the box, and fill up the box with more once your delicate items have been put inside. Poly peanuts are a really good way of protecting delicate items in transit.
Clutter
If you have no time to de-clutter drawers full of smaller items, then there is no harm in just emptying the entire contents of drawers into a box. If none of the items are breakable then why not? Only pad out boxes if there is a chance of things breaking, as it will save you both time and money. It may be a good time to organise clutter, however, so consider grouping things together as you pack. Why not use some plastic takeaway containers to sort items into groups – fuses, batteries, glues, bulbs, string and wire – it may save you time and help with reordering things when you arrive.
A Word About Boxes
When you are packing small delicate items, do be sensible about the type of boxes you use. Make sure they are sturdy, preferably corrugated, and that they have roughly 3-4" of space all around the items you are packing up, for you to fill with padding. Under-filled boxes are likely to collapse, but over packed boxes can burst. Never use thin cereal type boxes, as they offer no protection whatsoever. If you can carry boxes of fragile items in your car during the move, do so. That way you will know your precious things are as safe as possible.
Related Blogs: