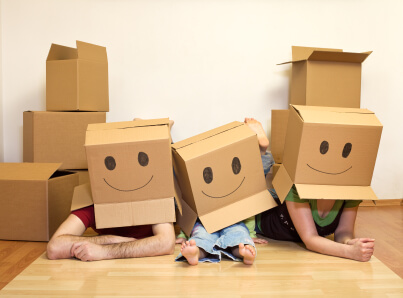 Any house move will have stresses and strains. It is often quoted that moving house is high up the list of life stressors, and it is easy to see why. Things can, and do, go wrong when buying and selling houses, so it would be unreasonable not to expect a few tense moments along the way. The removal element is one aspect that you do have control over, however. By thinking things through ahead of time, you can significantly reduce the amount of stress you experience on moving day.
Get Ready for Your Move in Time
Never leave packing until the last moment. It takes much longer than people realise to pack effectively, which is why so many people find the last days before a move incredibly stressful. Some choose to leave it to the experts, and this is highly recommended if you want to stay calm ahead of the big day. Packers just pack, they do not get distracted! Start thinking about your packing up around a month or two in advance. This will give you plenty of time to get all your packing supplies together. This in itself can be time consuming, as you need to gather a good supply of strong cardboard boxes together. Rather than relying on your local supermarket, consider asking your removal company to supply them. It will save you time and effort.
Make lists
Lists really are essential to cutting moving day stress. As you pack, make a note of where each box is to go, and write names and rough contents lists on the outside of each box.  That way the removal men will know exactly where each box needs to go, making the process smoother and less stressful. When labelling boxes, try to be specific, so that you know which box is full of saucepans, which full of mugs, and which are full of food. It will be so much quicker than opening every box and trying to find things randomly. Another tip is to make a 'To Do' list for moving day, but cover the week up to moving as well. It helps to be able to tick off each job as you complete it. Include anything from 'contact telephone supplier' to 'retrieve spare key from neighbours'. There are so many small jobs like this to be done, if you don't write a list then you will almost certainly forget some.
Trust The Experts
It may seem an obvious thing to say, but your removal or man and van company are experts in what they do. For you, moving house is a highly individual experience. For your removal company it is something they do every day, so they really do know what they're doing. You will be amazed how quickly and efficiently they work, clearing room after room in double quick time. Just try to relax and let them work. You don't need to stand around offering to help – they will ask if they have a question. A cup of tea will be appreciated, but otherwise it might be best just to sit in the garden quietly saying goodbye to your house.
Related Blogs: